Our hotel is one of the only village from where you can see Fitz Roy and Torre, this is very important not only because it allows you to enjoy the views permanently reason for your trip, but the weather will allow you to evaluate each massif to planning excursions.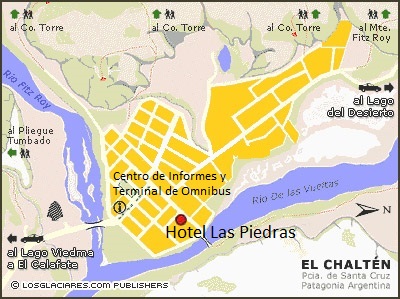 Strategically located 150 meters from the main downtown corner, ideal for enjoying the peace, tranquility and the excellent views of the Mounts Fitz Roy and Torre but also close enough to the centre for a look round the shops.
A few meters from the bus terminal.
Just outside the hotel walking towards the various trails that take you to enjoy the mountains and rides.
And if you want to enjoy the view of the majestic Rio de las Vueltas , you only have to walk a few meters, because we are a few steps from its banks.
From our park you can admire the rock climbing vertical walls located opposite our hotel.

The nearest airport is the International Airport El Calafate, and from there continue by bus to El Chalten (215 Km. / 3 hours). From Buenos Aires are daily flights to El Calafate (3 hrs. on direct flights) and also from other parts of the country.

There are two main access to the El Chalten ways: National Road (RN) N ° 3 bordering the Atlantic coast is the busiest (paved all the way) and RN N ° 40 parallel to the Andes (with parts gravel).